Come out and join us for a FREE fitness clinic brought to you by ATX Amputees and Wiggle Your Toes featuring Ottobock running products. Learn from Paralympic experts, have the opportunity to meet with peers, practice ways to improve movement and coordination with your prosthesis – all in a supportive and encouraging environment. All ages and abilities are welcome! You don't need to be an elite athlete or even have a running prosthesis to attend. Keep Austin Adaptive!
You'll be taught by the best:


Brian Frasure, CP – 3x Paralympian


Tarina Van der Stockt, PT – South African Paralympic Team Physical Therapist


Ottobock Clinical Specialists


St. Edward's University Physical Therapy Organization


Spend a few amazing hours with us…


Run for the first time along side trained professionals


Receive proper running gait analysis


Improve agility and balance in order to (participate in a variety of recreational activities)


Discovering training routines and sport-specific exercises


Building athletes' skill to take them to the next level


Opportunity to trial running products by Ottobock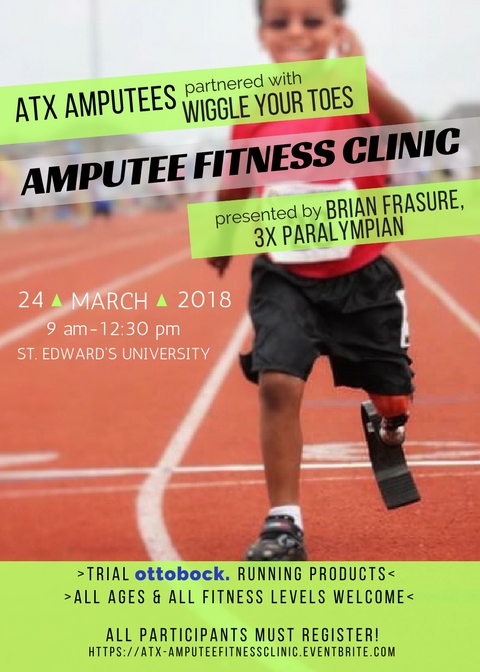 FAQs
What are my parking options for the event?
Since St. Edward's University requires specific permits to park on campus, we have selected a field closest to public parking. Please park along St. Edward's Drive, as it will be easily accessible to the field and does not require a parking permit.


What should I bring into the event?
Snacks and water will be provided, but here are some suggested items to bring:
– Towel or mat to lay on the ground for stretching
– Sunblock, sunglasses, hat, umbrella
– Prosthetic supplies (i.e. socks) *Saturday is expected to be somewhat humid, so this is just a reminder for amputees who may want to have their back-up supplies on hand*
– Wear athletic attire
– A WINNING SMILE :)


How can I contact the organizer with any questions?
We're happy to help! Email us at: ATXAMPUTEES@GMAIL.COM
(Should you have any questions on the day of this event, call or text Heather at: 832-628-0077)